Do you want to maximise the potential of your livestock?
Are you grain feeding cattle or sheep, perhaps fully feedlotting, preparing stud cattle, bulls, export Wagyu, survival feeding, early weaning, backgrounding or simply grain assisting a few steers?
If the answer is yes to any of these scenarios, then it is critical for a successful grain feeding operation that you provide stock with a balanced ration to maintain rumen health. As ruminants aren't designed to eat grain, there are some key principles that need to be considered in order to induct and transition livestock onto a grain or grain assist diet.
Our feed testing and ration formulations service is designed to restore mineral balance, help maximise weight gain, and improve productivity by providing adequate nutrient supply suitable for achieving your production goals. We aim to reduce your time and monetary costs by assessing the needs of your livestock operation and recommending a feeding program using high quality supplements, raw materials, and the latest techniques in livestock nutrition.
About Ration Formulation
AgSolutions' nutrition team are here to help and we provide a complimentary ration formulation service to assist you in looking at your current feed ration and can help with formulating a new diet to enhance weight gains and feed efficiencies.
Another advantage of this service is that we can provide information to assist with purchasing and decision-making when it comes to available feed materials. Our current clients are finding this extremely valuable during these dry times when price and availability of raw ingredients has been challenging for everyone. A feed testing service is also available on request to identify the quality of raw materials used that can aid our team to calibrate your feed rations on both a practical and least cost basis.
AgSolutions can also assist with a range of products for various grain feeding situations. MegaMin Feedlot Enhancer is a complete and balanced grain concentrate that now includes Bovatec® to help improve weight gain, feed efficiency and assist in the management of coccidiosis, all with no withholding period (meat) for both sheep and cattle.
Not needing a full concentrate? Some producers simply include MegaMin Mineral Blend in their rations as a source of macro and trace minerals. If you are feeding cattle for the domestic organic market or USDA National Organic Program we can also assist you in formulating a balanced ration using allowed inputs. The team at AgSolutions are here to support your grain feeding operation along with our network of suppliers and animal health companies who endorse us.
How to book a Ration Formulation:
Contact your local Field Advisor
The AgSolutions' team is on hand to provide technical and nutritional advice to our customers. Click here to find the AgSolutions Field Advisor servicing your region.
Submit a Request
Complete and submit the request form. Your request will be forward to the AgSolutions' Field Advisor for your area who will be in touch with instructions and more information.
Feed Testing Service
To ensure your livestock are receiving adequate nutrition to achieve their performance and production goals, AgSolutions can arrange a NIR feed test of raw ingredients through our partners, Feed Central Australia.
Have you recently conducted a feed test?
Great! Our nutrition team can assess the results of previous feed test free of charge!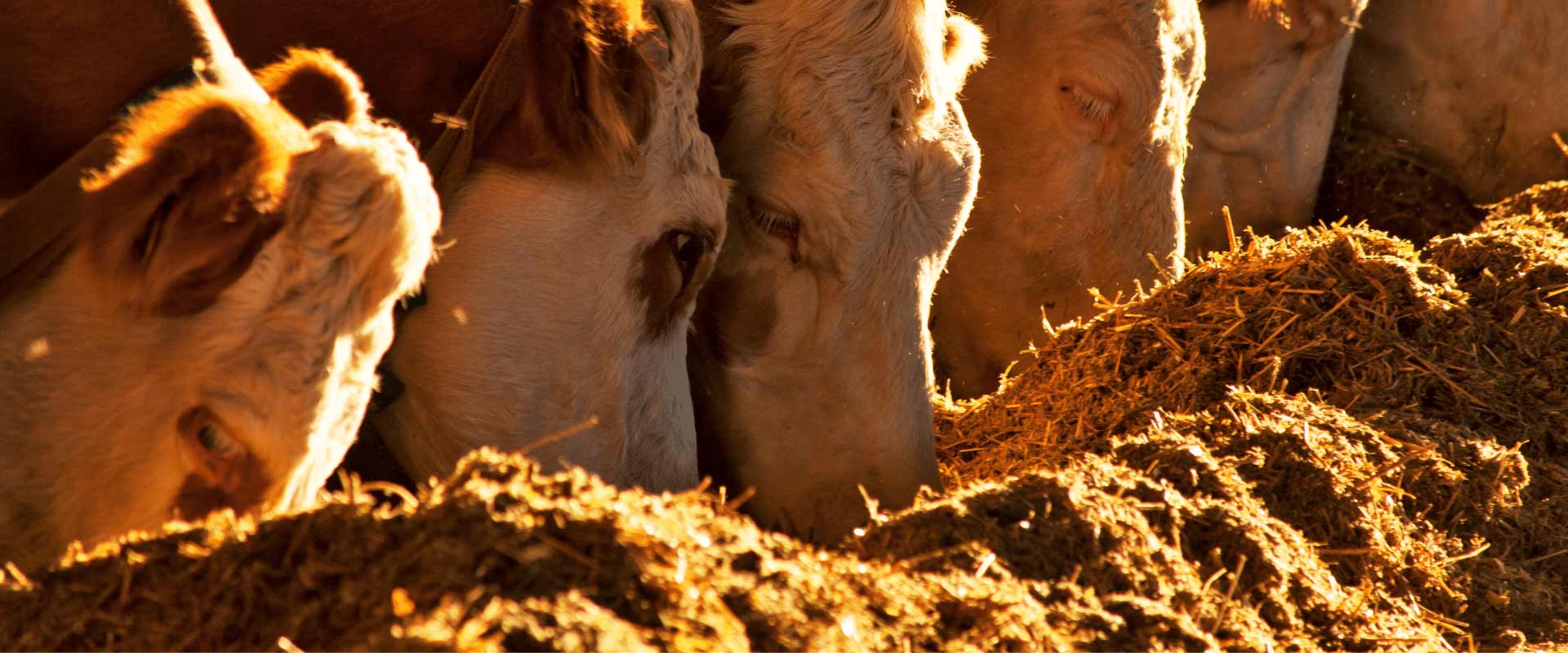 Important Notes on Grain Feeding
A grain ration should be designed to give maximum weight gains and fattening rates at the lowest cost possible with minimal metabolic issues. If you are considering putting your livestock onto a grain ration there are a few important details that you need to consider.
What ingredients to use?
The initial selection of ingredients for your ration will depend largely on what is readily available to you and at the lowest cost possible. In saying that, when selecting ingredients it is also important to look at the quality and quantity and to compare forage prices on a dry matter basis. A very cheap source of contaminated grain or silage won't end up so cheap if you lose the majority of your herd to toxicity. You must also be able to adapt the ration as the cost and availability of the ingredients change over time.
Some grains are safer to feed than others, for example it is safer to feed oats or barley over wheat as these grains have a higher ratio of fibre to starch than wheat does. Starchy cereal grains can be rapidly fermented in the rumen, producing lactic acid and this increases the risk of acidosis (grain poisoning). Another thing to note is that the more finely ground the grain, is the higher the risk of acidosis. However, grains like sorghum also need to be milled finer or steam flaked to increase utilisation.