One of the most common horse feed related questions that I get asked is, "What can I feed my horse that suffers from laminitis?". This is not surprising as laminitis is one of the most common causes of lameness and disability in horses and ponies. Over the next few blogs I will be covering a number of topics associated with laminitis, but let's start at the beginning.
What is Laminitis?
Laminitis is a disease of the hoof that can vary in severity from the smallest hint of lameness to a condition described as 'sinking' or founder that can be fatal.  Laminitis is a crippling condition that results from the disruption (constant, intermittent or short-term) of blood flow to the sensitive and insensitive laminae in the horse's hoof.  These laminae structures within the foot secure the hoof wall to the pedal (coffin) bone and when a horse is suffering from laminitis they become inflamed due to the compromised blood flow.  
Inflammation results in the supporting laminae becoming weakened, leading to painful tearing of the support structure suspending the pedal bone within the hoof.  If laminitis is not treated and enough inter-laminar bonds are destroyed, the animal can founder.  Founder means the pedal bone rotates downward, potentially even puncturing the sole and prompting the decision to euthanize.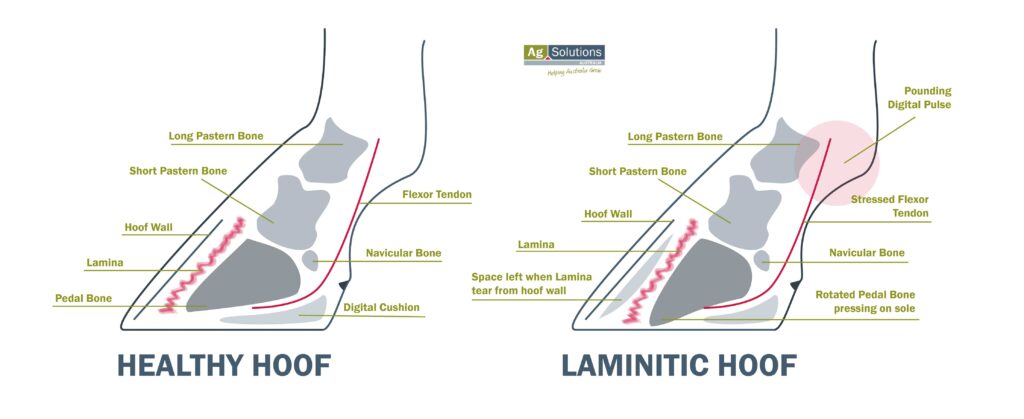 The level of pain that a horse demonstrates does not necessarily indicate either laminitis or founder. Horses, like people, have varying pain threshold levels. Some horses show tremendous pain while they are laminitic and others show very little. Once a horse has had an episode of laminitis, they are particularly susceptible to future episodes.
Laminitis is a multi-factorial disease meaning that it is associated with a number of underlying causes and it can be severely debilitating to the horse.  If laminitis is suspected please contact your veterinarian for advice.  Stay tuned for the next addition where we will discuss the most common signs of laminitis.
By Shannon Godwin, BAppSc GDTL