Reserve Champion Led Steers Champion Heavy Weight Carcass
Product Range: MegaMin Mineral Blend
Region: Warrawee, Tenterfield, NSW
Reduced acidosis
No scouring
Improved coat condition
Increased weight gain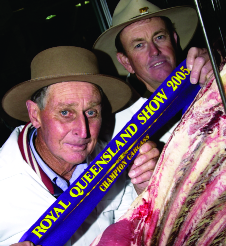 Ekka 2005 "Superior" Led Steers
This is the first year Keith has used MegaMin Mineral Blend (Mineral Supplement and Feedlot additive) in his grain ration and he is very pleased with the results, taking out two Reserve Champions in the led steer with another steer taking out the Champion Heavy Weight Carcass after winning his class on the hook and picking up $1200 in the jackpot. Keith and Annette are well known around the ring of led steer competitions and began showing their steers in 1990. The Willcocks' have won the Royal Brisbane Grand Champion Led Steer twice, in 1996 and 1997. However, Keith is quick to point out that this is just a hobby for him.
I get a lot of enjoyment out of it and you learn a lot about your own cattle. Most of all we meet so many good friends."
Keith often prepares steers in partnership with several other exhibitors and one of these steers also won the first lightweight class at the Ekka in 2005.
Lime, Bentonite, Feedlot 80 and Eskalin® have been eliminated from Keith's feedlot ration
Keith runs a full time feedlot on his property and supplies cattle to a local Tenterfield butcher. MegaMin Mineral Blend is used throughout the feedlot mix and Keith says,
MegaMin Loose Supplements are doing the job and the cattle are doing well, there have been no signs of acidosis and the cattle are handling the grain. The manure in the feedlot is well formed and there are no scours."
Keith hasn't weighed his steers but says, "I just go by the look of my cattle, their coats are good and I'm pleased with their body condition and cover". Keith mixes his own feedlot ration of sorghum, roughage and cottonseed with an overall protein level of 13 – 14%. "I use 15kg MegaMin Mineral Blend per tonne of grain and no longer use lime, bentonite or Feedlot 80. Having used various other products in the feedlot over the years I can't see a need to use anything else now, the use of MegaMin Loose Supplements is simple to add and cost effective."
Keith's knowledge is also sought after by the local High School and Keith has been mixing their feedlot ration for some time. "They used to use Eskalin® (an antibiotic used to prevent acidosis) in their mix but it became difficult to get even with a prescription." Now the High School's feedlot mix is the same as Keith's grain mix and MegaMin Mineral Blend has become a convenient, cost effective alternative to all other feedlot additives. So congratulations Keith and Annette, Keith certainly has an eye for quality cattle and knows that you need a good animal and a good feedlot mix to do well. A professionally balanced, convenient and easy to use grain additive.