Milking the Returns from your Soil
Product Range: NatraMin Cal-S
Region: Warwick, QLD
Warwick Dairy farmer, Bill Stewart, rates his soil nutrition program as a high priority in order to maintain top production.
"In this industry, finances are tight but we can't afford to neglect soil fertility because we rely on our cultivation and cropping to generate our returns."
Under irrigation and dry-land, the Stewarts grow Lucerne, Rye, Corn and Wheat for silage and grazing. "We are self-sufficient for all forages and roughage and need maximum yields for our silage and fodder reserves."
Adjacent to the Condamine River, soil structure has been a key issue in the past. Elevated Sodium levels on these black soil flats caused soils to crust, set hard or become layers and clods under cultivation. For the past 5 years, Bill has soil tested under the advice of AgSolutions' Paul Pritchard and Agronomist, Ian Wallace for his fertiliser budgets and programs to improve yields, soil and crop health.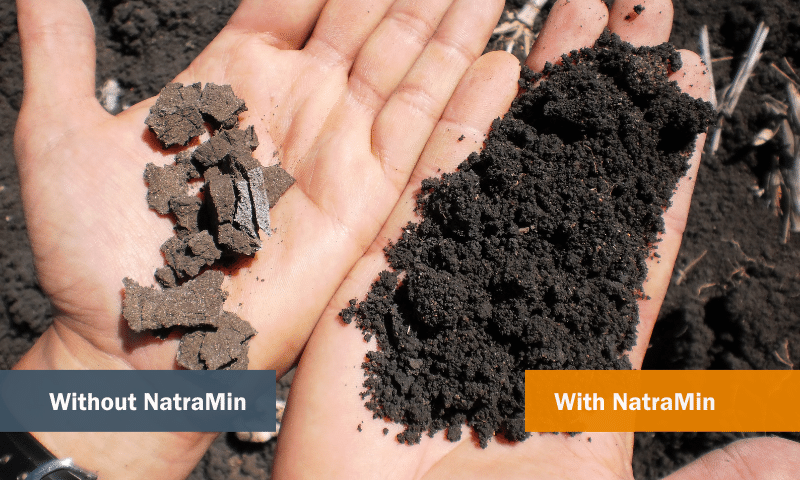 Soil testing and having a program provides us with direction and facts to base our decisions on. NatraMin has been broadcast annually on our cultivation at 300-500kg/ha as a soil conditioner and this has certainly helped both our heavy and lighter soils. We're growing better crops and our seed strike at planting has definitely improved. Fine tuning our inputs has reduced the amount of Urea and synthetic fertilisers required and we've seen the improvements in our soil. The bottom line is quality nutrition into our soil equals quality nutrition for our crops and stock."
AgSolutions' Paul Pritchard comments, "This district has areas of sodic soils particularly along the river flats. The proof is in the paddock where new areas of cultivation at Bill Stewart's clearly show the difference in soil structure where NatraMin Cal-S has been applied."