Mineral Fertiliser and Soil Conditioner with Extra Calcium and Sulphur for Dark or Crusted Soils
NatraMin Cal-S is formulated with extra calcium and sulphur for dark, sodic, cloddy or crusting soils with a calcium imbalance and low in sulphur. It is suitable to use in small crops, cotton, lucerne, pasture and grain.
NatraMin Cal-S is a cost effective alternative to Gypsum as a soil conditioner and contains high levels of silica as well as other essential minerals and trace elements. All blends of NatraMin are formulated to stimulate microbe and worm activity in your soil, helping to release locked up nutrients for your crop.
Typical Analysis
| | |
| --- | --- |
| | NatraMin Cal-S |
| Calcium (Ca) % | 10.7 |
| Phosphorus (P) % | 0.06 |
| Sulphur (S) % | 5.8 |
| Potassium (K) % | 2.0 |
| Magnesium (Mg) % | 1.7 |
| Silicon (Si) % | 17.3 |
| Iron (Fe) % | 3.7 |
| Carbon (C) ppm | 2300 |
| Manganese (Mn) ppm | 660 |
| Zinc (Zn) ppm | 100 |
| Copper (Cu) ppm | 40 |
| Cobalt (Co) ppm | 16 |
| Boron (B) ppm | 13 |
| Molybdenum (Mo) ppm | 4 |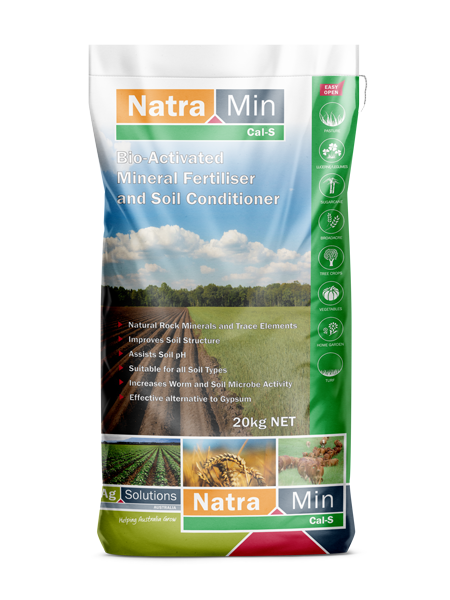 Available In
Did you know?
AgSolutions can assist you to design a simple to follow soil management plan to suit the specific requirements of your soil, and subsequently your crops and livestock. Whether you follow conventional or organic farming practices, or anything in between, our programs are designed to restore soil fertility, helping to maximise yield and productivity.
Application Guide
The NatraMin range is made from natural rock minerals and trace elements that do not require a withholding period before livestock or horse can graze. All NatraMin blends are non-leaching and may be applied at any stage of the growing cycle, on existing crops, or for best results, 4-6 weeks before planting.
Scientific Research Into The Benefits Of NatraMin Cal-S
At the University of Queensland, Dr Bernard Wehr and associates conducted a replicated trial that examined the effects of NatraMin Cal-S on soil properties and plant growth in 2017. Results showed that NatraMin Cal-S increased the soil's plant available water content (PAWC) significantly over soil with no amendment applied (Control). Using NatraMin Cal-S resulted in an increase of up to 13.1% PAWC in soils, which was achieved by increasing the water content at field capacity (7.3% increase) or by increasing the capacity of the soil to hold water.
In these same trials, NatraMin Cal-S resulted in a 26.26% increase in dry shoot biomass (yield) over the control with an even more pronounced difference under the soil surface, where dry root biomass increased by more than 39% in NatraMin Cal-S treated soil. In addition to improving the health of the current plant, root growth also improves the health of the soil over time.